---
---
AUGUST 23, 2022
Jessica Felicio via Unsplash
We are three weeks away from announcing the winners of our inaugural NEXT Awards set to raise the bar and define the future of beauty. Our intention with the awards is to create a level playing field, from the largest multinationals to high-growth indies, retailers, agencies, service providers, and suppliers.
With everything we do, our first goal was bringing value to our community, and our second objective was to find whitespace either in opportunity or approach. There is no shortage of awards for brands, and for products that are well executed. Hopefully, we've carved out a space merging innovation, impact, and design that creates space for change and growth.
We made a foundational commitment that judging would be transparent and done by a panel of independent judges selected for their diversity of experience, deep category knowledge, and insatiable curiosity. The judges also agreed to recuse themselves from any awards they have an affiliation with to maintain the integrity of the process.
We received 325+ entries for over 40 awards across 7 categories. The finalists represent businesses from the entire beauty ecosystem. Our judges had a difficult task reviewing each entry to determine the finalist and will meet this week to discuss and land the winner in each category.
Judge Stacia Prince, former Cult Beauty International Buying Director, said of the submissions, "Every entrant was worthy. It is so wonderful to see innovation and creativity running wild again. Some were just too good, which is why this industry will always be the gold standard and a category that excites and inspires."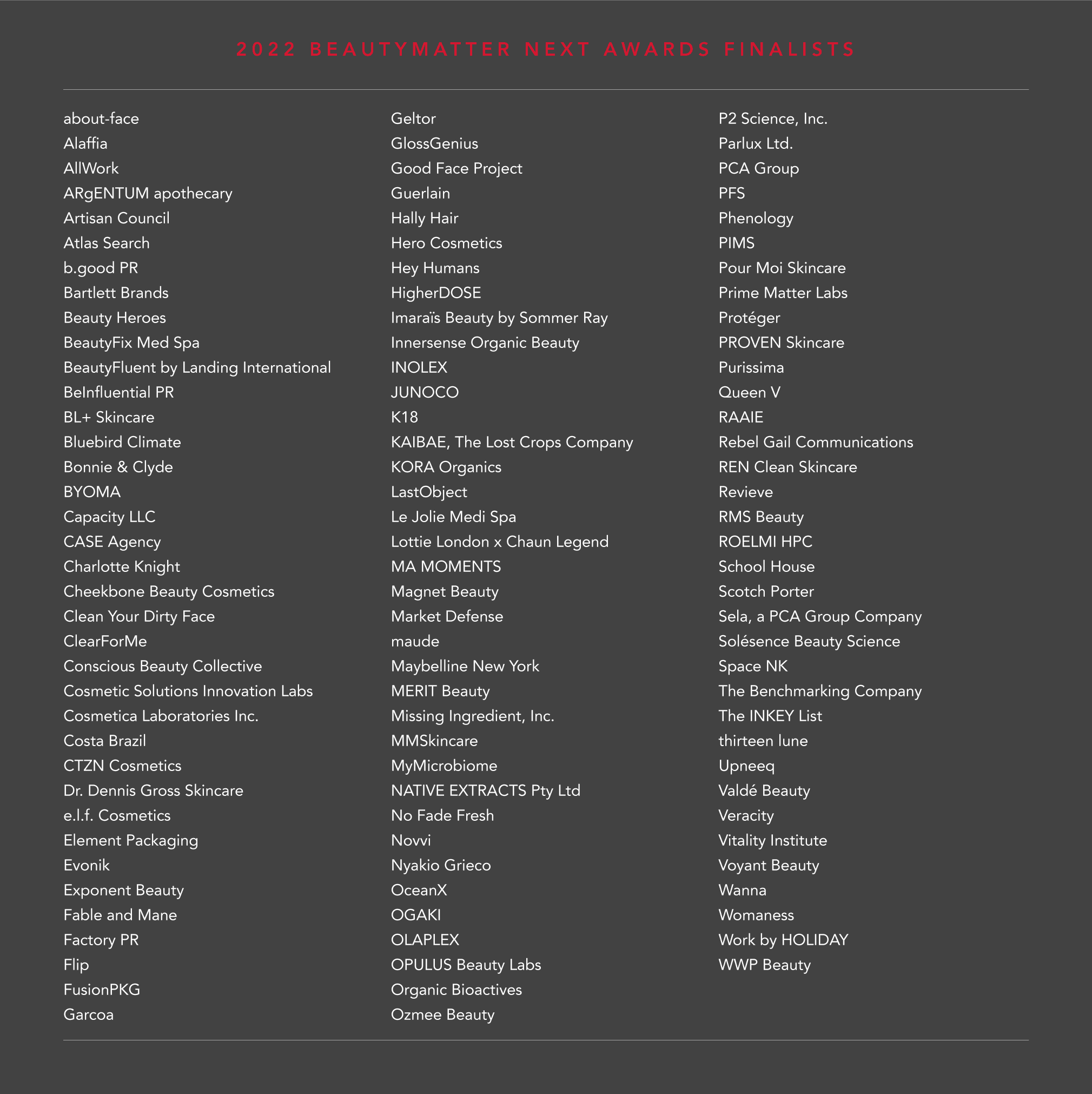 Join us to honor the NEXT Award winners on September 15, 2022, at the BeautyMatter NEXT Summit: The Future of Beauty in Los Angeles, CA.